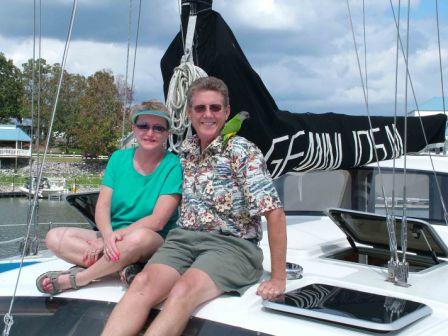 Sail Vessel Freedoms' Crew
Captain Jim was from a small town in South East Missouri. After high school, he went to Linn Technical College and received an Associate Degree in Electronics. Jim then went to work for a radio station in Mexico, MO as a Chief Engineer. He was offered a position at Ranken Technical College in St. Louis and began the Computer Technology Department. As he stepped his way to Senior Vice President, Executive Vice President, and then Vice President for Institutional Advancement, his last significant accomplishments included long range planning for the College. He holds a Bachelor's and Master's Degree in Computer Studies.
On a personal note, he has owned a boat since he was seventeen years old and naturally loves the water. He has been sailing for over 18 years and is an excellent Captain. At the age of five, Captain Jim built his own boat. When christened, she immediately sank since at the time, he knew nothing about caulk. Fortunately, through out the years, he has learned much about what make a boat float.
Admiral Deb is also from a small town in Illinois. After high school, she received her undergraduate degree in Education. Starting her career in teaching, she went back to school and received a Master's Degree in Counseling, a Master's Degree in Marketing, and a Ph.D. in Educational Administration. At Ranken Technical College she taught Technical Writing and was promoted to Assistant Dean, Dean of Students, and Dean of Enrollment Management. After Ranken, she moved to Saint Louis University, managing their Business Leadership programs and teaching Marketing.
On a personal note, Admiral Deb loves the sailing life. She makes jewelry for some spare change and likes to fish.perfect watches
First Mate Jimmy Buffett is the ship's bird. Jimmy is a Senegal Parrot from the Senegal Region of Africa. He has a little character that is sweet and funny. He eats, plays, talks, and takes naps all day. He is 14 years old and loves the sailing life. Although poor at navigation, he provides much love and entertainment for crew and guests alike.

Web Page by Jim Faughn