Bahamian Macaroni and Cheese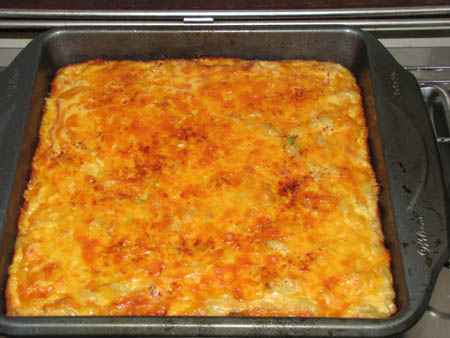 When we came to the Bahamas in 2010 one of our first agenda items was to get Mac and Cheese. They do it different here and it is always delicious. then it became my mission to "knock it off." Actually, I studied several recipes and talked to some Bahamian's which allowed me to end up with the following recipe. Delicious and we will never be missing it in the future. Delicious..
1 - 8oz package elbow macaroni, cooked, rinsed and drained
1/2 onion, sliced thin and chopped
1/2 green pepper, sliced thin and chopped
2 Cups sharp Cheddar cheese, grated (apx 1/2 pound)
1 can evaporated milk
2 eggs, beaten (Note: I used egg beaters and it worked fine.)
1 teaspoon Cajun seasoning (an alternative is to add 1/2 teaspoon salt and then finely chopped hot peppers or perhaps hot sauce)
If you want to be real bad, add 1/4 stick of butter.
Dash of paprika
Saute onions and green pepper until softened
At the same time, boil macaroni until tender (See directions on package)
Drain. Add 2/3rds of the cheese and stir over low heat until melted. Stir in evaporated milk and eggs. Add seasoning. Put into a well-greased casserole dish or baking pan. Sprinkle remaining cheese evenly over top. Bake in the oven at 350 degrees for 20 minutes or until mixture has set. Remove and let stand for 10 min. Cut into squares and serve. 6 to 9 servings.

Web Page by Jim Faughn