July 1, 2009 - Life has been busy although very productive! Let me start with the not so mundane. A few days ago I got started on a project that I had planned to accomplish but didn't have all the right items to make it successful. I found those items. As you can see on the lower left, our side windows aren't just dirty, they are fogging up again with damage from both U.V. and I think some chemicals. I had decided that I was going to replace them again this year after 3 full years of being underway. However, while I was in Wal Mart, I found a product by Meguiar's called PlastX that is supposed to remove fine scratches, cloudiness & stubborn oxidation. I think they made it for the headlight lens but I thought why not try it on the side windows. They also figured you would do this job by hand but I'm too lazy so I needed a better solution. What I wanted to do was to use my random action sander with some kind of pad to do the job. Last week I saw my friend Tom using a pad on a random action orbital sander and asked where he got them. He told me Lowe's and he picked up two for me. I then went to work and in about an hour I had the windows on both sides looking MUCH better. Life is now clear again from the inside of our Gemini.
Deb has been working and planning a special event for this past weekend which was called Women's Spa Day. She, along with 4 other ladies who have their own businesses got together and with Deb's marketing skills, they had a great event. About 80 women attended the event and everyone had fun at the event. They had a rage of activities for people to do ranging from buying Deb's jewelry, massages, manicures, buying flowers, facials, to Taro Card readings.
I didn't get to stop by because of the Captain's classes but Deb took a few pictures before it got too busy.
She was very happy with the event and so were the other women who were displaying their products and services. Perhaps another Spa Day will be held in August or September.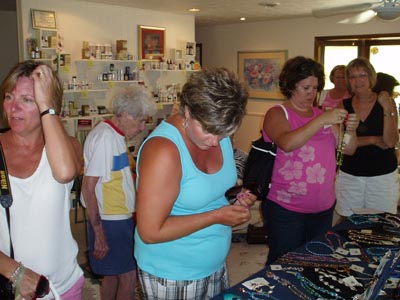 Once again it was back to class for Jim. Thursday night was our towing class which explained everything from hip towing to towing with a hawser and a bridle. I found the class interesting because of the nuances that I wouldn't have considered otherwise. We took the test later in the evening and then we were ready for the Master's upgrade. That class took place on Friday, Saturday, and Sunday with the test on Sunday. The class concentrated primarily on "Deck General" which really was a continuation of the items we had learned in the OUPV or "six-pack" class. Concentrating on the more specific issues of running and managing an inspected vessel brought clarity to additional subjects. Fire fighting, when to abandon ship along with the proper methods of doing so, required lifesaving gear along with where to find what the amount of gear required for the ship you are getting ready to run, and of course a bunch of rules and regulations. I've really just minimally touched the subjects but the real point is that when you go from an uninspected vessel to an inspected vessel, you job as "Captain" changes and you really do take on more responsibility when the passengers go from a maximum of 6 to 49 or more. Every detail is covered in the "T" regulations and you can find your ships specific requirements in the Certificate of Inspection so as a Captain, you better start with the C.O.I. to determine if your vessel is ready to go.
It was nice taking the test and passing but what I really learned is that I would need to spend some additional time on an inspected vessel to ensure that it complied with all of the regulations before we took the first load of passengers. Now that I have completed the courses I am in the process of getting all of my sea service documented. I have the process complete for "Freedom," which is our boat. I also have the time documented and that documentation sent off to the person whom I previously chartered from. He will sign the form and then return it to me. What I'm waiting for is a letter from the state of Missouri letting me know a past registration number so I can document that time. I've owned six other boats besides our Gemini but only really need the registration number for one of them to document the most time. The bad news is that the State of Missouri hasn't responded yet. The good news is that I have more than enough time for the license without the other days from my older boat.
I'm also waiting for my embossed certificate from True Course, my CPR card, and the results of the Drug Test and then I can take the package to St. Louis to the Coast Guard. I have found out that I can't just show up and take the Sailing Endorsement. Instead, I need to turn in all my paperwork with a request to take the endorsement. Once they give me permission, I can then take the Sailing Endorsement which would apply to my license. This is all the more reason True Course should offer the Sailing Endorsement as a part of their course and they are planning on adding it in the future. Regardless of the obstacles, bottom line is they are just obstacles which are begging to be overcome. Once we have everything I can complete we will get into the process and hopefully we will have the Masters Near Coastal, 50 Gross Ton's, Towing and Sailing Endorsement licence before the end of the summer or early fall. Since I've already applied for my TWIC Card, they will coordinate with the Coast Guard to let them know I'm not a wanted terrorist and that should help the process along too. Details, Details, Details.
Last night was a beautiful evening with a thunderstorm passing to our south. I captured a few pictures that you can see to the right and below.
Deb was just happy that the storm didn't hit us directly. Me, I was happy that I got some pretty cool pictures. I liked the one to the right and lower right.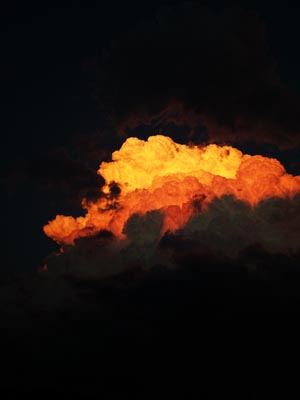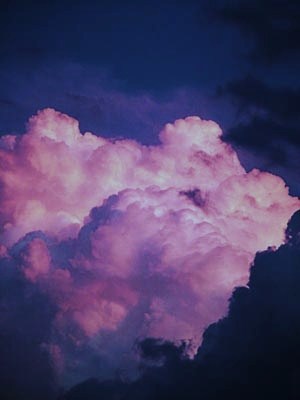 Today will be a good day. I just listed another boat a few days ago and it is now on-line. On top of that, I got a call and then the a copy of the documentation for an Island Packet that I will be listing late this afternoon. That means at least two days work getting the facts together to publicize on Yacht World and other website's. We have another boat that should be listing with us on Friday and then a couple more after that. Bottom line is that we are getting enough boats here at Green Turtle Bay that if someone is really interested in a sailboat, they will be stopping by to look at ours.
I'll be getting back to the writings about what I've been learning soon. I can tell you that one of the best parts of my job this year is meeting all of the people and also looking in detail at all of the boats as we work at evaluating and valuing them. Each has their own advantages and disadvantages.
I hope everyone has a wonderful 4th of July weekend!